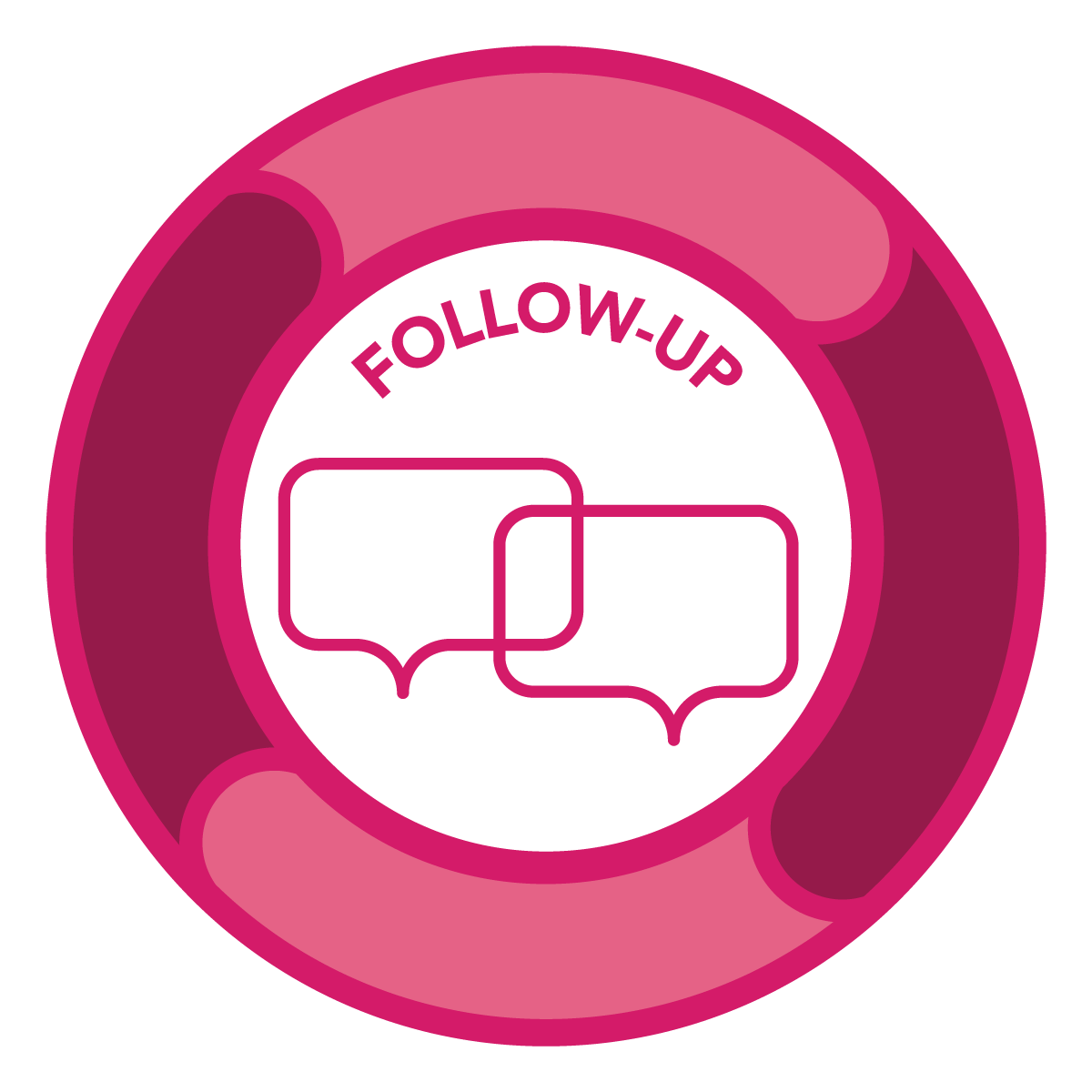 Earn the Follow-Up Badge
By earning this badge, you will be able to:
- Ask intriguing questions to help disinterested people become curious, using DMs or in person
- Give a winsome invitation and help disinterested people want to join your honest community
A Ministry of Love and Hope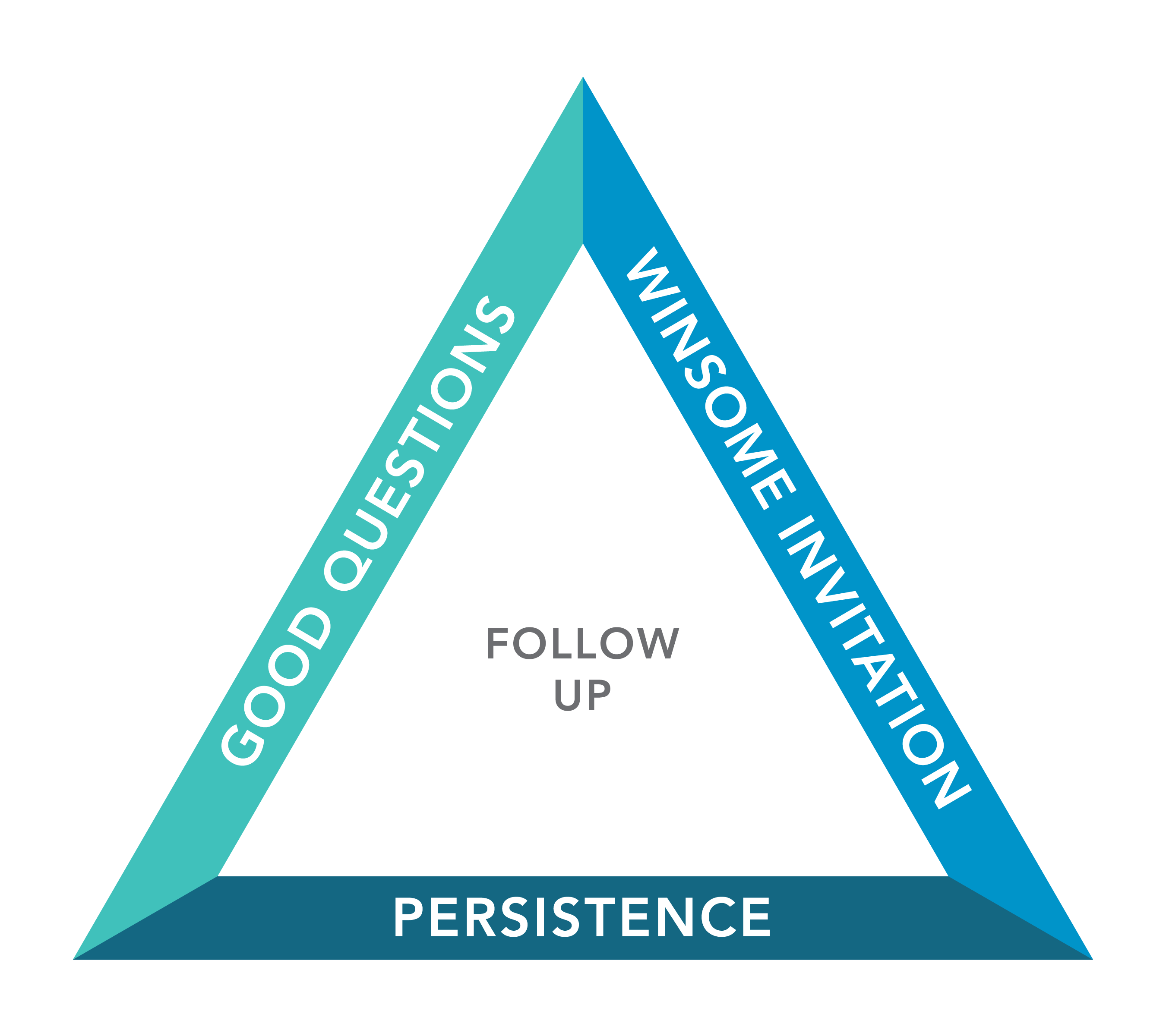 God loves to use good follow-up to change people's lives, both face-to-face and online. They may not say yes immediately, but people like to be invited to connect and be seen.
God is working through Christine and her friends at Middlebury College in Vermont. They have persistently followed up with dozens of new students online. Nearly 30 of them have attended her Jesus and Justice Bible study series, and together they are becoming more like Jesus!
There are three sides to the "follow-up triangle." It starts with good questions, continues with a winsome invitation, and faithful persistence keeps the process going. Take a moment to pray:
Jesus, make me more like you. Help me ask good questions, offer winsome invitations, and grow my persistence. 
1 of 3
Online Follow-Up
Opening Questions
Start the conversation:
Thanks for sharing your opinion on my story. What made you vote for _____?
Are there ways you've been able to stay connected during COVID isolation?
We all need prayer during COVID. What would you like prayer for?  
Going Deeper Questions
Learn about the person:
What do you look for in a real community?
What is your spiritual background? What does that mean to you today?
How is your self care this week?
Invitation Questions
Clearly invite to a next step:
Would you like to join me? Anyone else we should invite?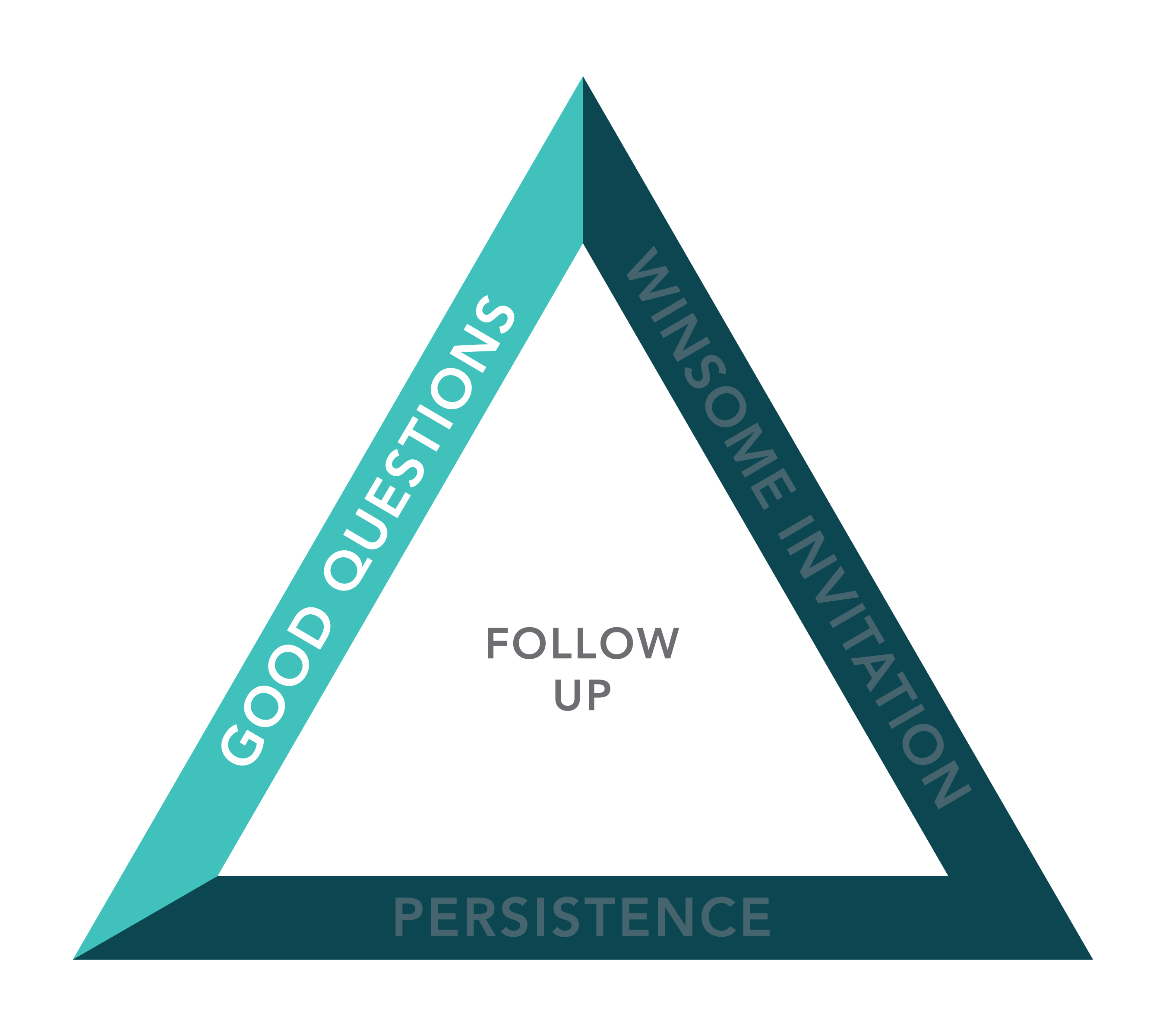 Three Kinds of Questions
Asking questions is one of the most important parts of being a faithful witness. Please grow in asking good questions and being genuinely interested in where the other person is coming from.
Brainstorm your favorite opening question, going deeper question, and invitation question. 
Pro Tip
When following up online, it is important to keep the conversation going. For example, when following up from an insta-proxe, we recommend responding with an "opening question" within 5 minutes.
2 of 3
Winsome Invitations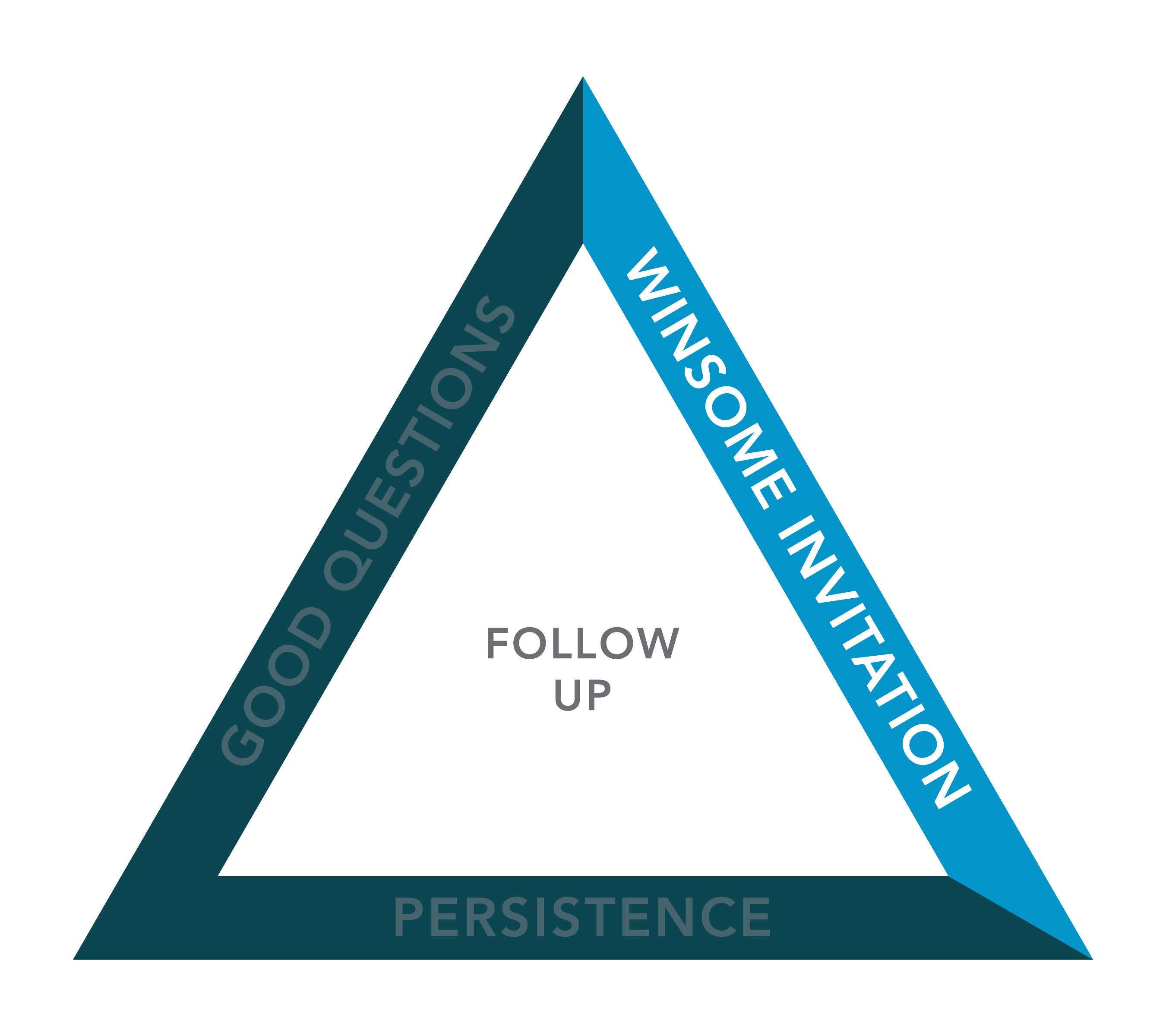 People Crave Community
Online follow-up is all about building relationships, and that includes inviting old and new friends into your InterVarsity community. A winsome invitation toward the end of a follow-up conversation allows you to intrigue skeptics and seekers and give them an opportunity to join you. Many of your friends are ready to join your community, even if at first they seem skeptical or disinterested.
Improving Invitations
God wants to use our winsome invitations to offer far more people on campus and online a compelling reason to check out Jesus and transform them forever. Let's imitate Jesus with his life-changing invitation in John 1 with his epic "come and see."
Unfortunately, our uncoached invitations all too often are more like Acts 2 when the crowd hears the disciples and conclude, "They must be drunk."
How many times do InterVarsity students make invitations but we sound unintelligible, confusing, or worse yet, just plain boring? Let's improve our first draft invitations and grow together to give winsome invitations online and in person.
Read These Examples
Which is the most intriguing to you? Which would you most want to give to your friends?
Sample Texts
Do you have a place where you can get connected to a community that wants to be for real? InterVarsity is my favorite place to talk about real issues and faith. Would you want to come with me to the first online meeting?
I'm building a community that talks seriously about justice and how we find hope in the midst of injustice. Come join my cooking and conversation group. We make dinner together on Zoom and have real conversations. Want to join?
Every thinking person owes it to themselves to create an adult opinion about Jesus. Do you have a place to do that? I'm creating a community of people who consider themselves skeptics, spiritual seekers, and Christians to do just that. I want to hear your opinion as we take an honest look at Jesus. Would you like to come?
Build Your Invitation
Intriguing. Make this interesting for non-Christians. Use accessible language for skeptics and seekers who are unfamiliar with Christian and InterVarsity lingo.
Personal. It tells a story of how you were personally impacted or answers the question, "Why should they check it out?"
Clearly invites.
3 of 3
Grow in Persistence
Read these stories of persistent follow-up and compare what it took for Kim and Angela to successfully invite their friends.
Sometimes, your friends are ready to say yes to Jesus
Kim, a sophomore, decided to invited her neighbor Jamie to the first small group of the year. Jamie, a seeker, had been open to spiritual conversations with Kim and needed a place to take an honest look at Jesus for herself. When Kim invited her, Jamie quickly said "yes," and attended the small group later that night. To everyone's surprise, Jamie decided to begin following Jesus with her whole life that very night! God was doing more than Kim realized underneath the surface in Jamie's heart and Kim joyfully got to participate in this miracle of God.
Sometimes, it takes time
Angela joined InterVarsity as a freshman and immediately joined in the effort to follow up and invite others. She met Raman, a skeptic, in her engineering class. Angela and Raman quickly developed a friendship through class projects, but Raman was always indifferent towards Angela's faith and her invitations to her InterVarsity small group. Week after week he would have excuses to ignore Angela's invitations and change the subject. Angela was not in a hurry, she continued to ask questions about Raman's life and spiritual background. She would share vulnerably about how God met her and comforted her in her journey with chronic health issues; and she would continue to offer Raman winsome invitations.
After nearly two semesters of persistently building their friendship and inviting to her InterVarsity community, Raman was ready to respond. He started by attending the occasional social activity. Then as they moved into their sophomore and junior year he would sometimes attend Angela's small group and began to develop friendships with more Christians. Halfway through their junior year Raman became a regular part of InterVarsity as he earnestly explored Jesus. Over winter break that same year, Raman decided to trust Jesus with his life. Angela was elated! Her friend, whom she had follow-up with and invited for 5 semesters had decided to follow Jesus!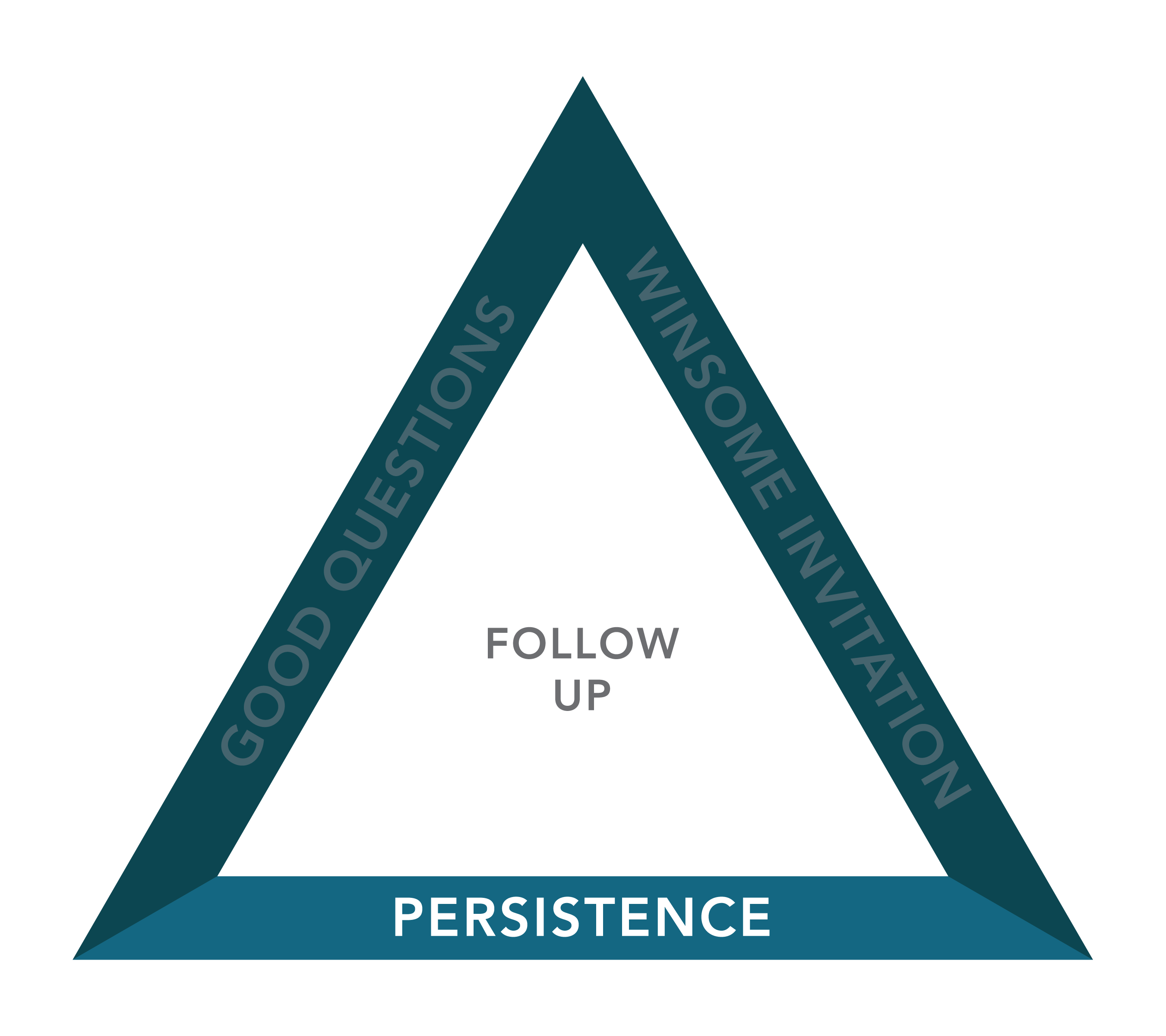 Follow-Up and Winsome Invitations Change Lives
Reflect & Pray:
How does Angela show persistence? Perseverance in love is a work of the Holy Spirit that builds our character and hope. Follow-up is an act of faith and hope. We believe God is at work, even when we can't see it. How do you want to grow in hope?
"Holy Spirit, give me a heart for non-Christian friends like Raman and Jamie. Help me to persistently follow-up and invite. Give me courage to keep going even when my friends first seem indifferent."
More Help
Get a Coach
Sign up for a coach to help you improve your winsome invitation and get started following up with friends and contacts.
Cut Christianese
To improve your invitation use our Cut Christianese worksheet with a coach.
"Jesus, use my follow-up and invitations to change people's lives forever. Thank you that we get to do this together!"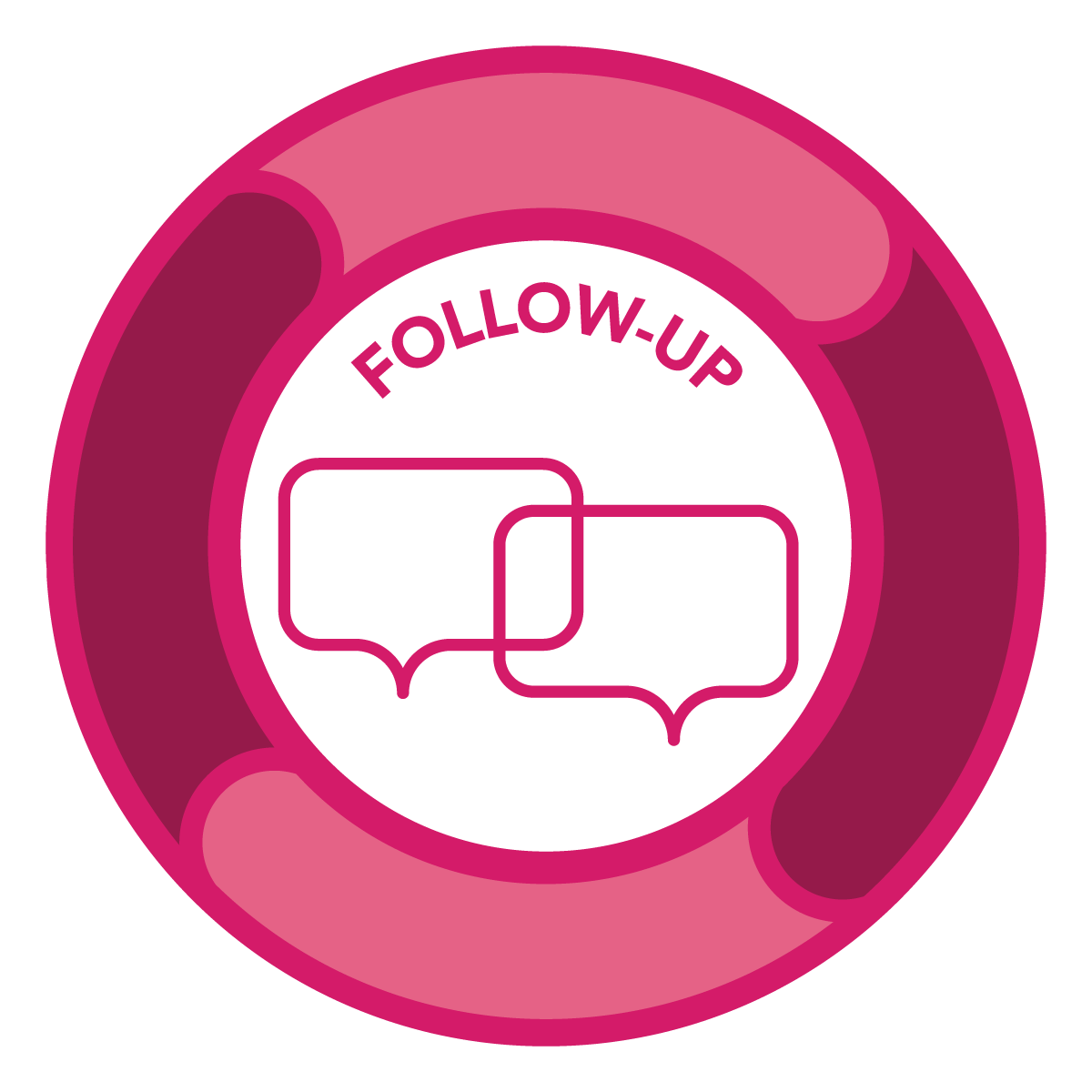 Congrats!
You should now be able to:
- Ask intriguing questions to help disinterested people become curious, using DMs or in person
- Give a winsome invitation and help apathetic people want to join your honest community
Claim Badge
Login and Claim Badge